Gerrit Noordzij writes about Burgundica:
"The design of Burgundica emerged from analyzing the elongated version of the Burgundian Bastarda appearing firstly in manuscripts from the calligraphic workshop of Jacquemart Pilavaine in Bergen (Hainaut) in 1450. The Burgundian bookproduction of the time owed much of its splendor to this elegant script.
In Burgundica I followed the shapes of the Burgundian bastarda rather closely. Of course, there was no use for the shapes of the bastarda in the roman and italic fonts of Tret; instead I adapted the spatial proportions of the calligraphic pattern to the shapes of that typeface. (Note: Tret is to be released by TEFF, currently in production)
In the the last quarter of the 15th century the first bastarda typefaces were cut in Bruges. Many similar typefaces followed that were founded on the typefaces by such predecessors as Caxton, Mansion and Brito. Contrarily Burgundica has its origin in the script itself.
In 1983 the Scherpe printing office in Krefeld commissioned me to design a folio sheet with a text by Rudolf Koch on the occasion of their jubilee. I took the opportunity to apply a provisional photographic version of Burgundica."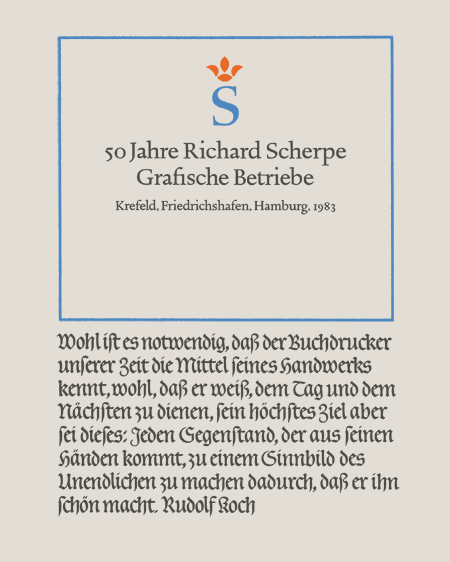 Folio sheet with early version of Burgundica, 1983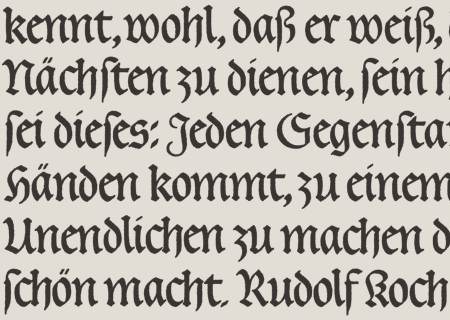 Detail of early version of Burgundica, 1983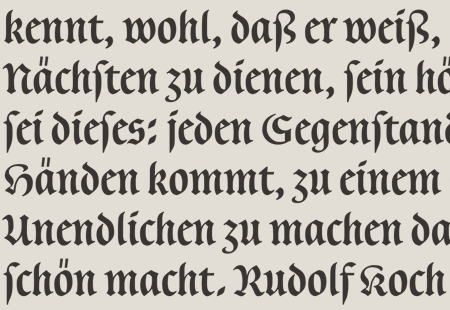 Same detail with current digital version of Burgundica